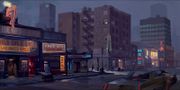 Bees Honey Pot is a brothel in Manhunt 2 owned by The Pimps. It is located in the Red Light District in Cottonmouth. In the past, the brothel was called Blue Chevalier Hotel. It is the setting for the level Bees Honey Pot, where Danny is searching Judy. The Pimps are filming pornography in the building and the motto of the brothel is "Real eye candy: watch the birds & the bees get it on!".
Interior
Edit
There are 4 floors in the brothel and a yard: 1 Floor
Main Hall
Reception Desk and room
Locker Room
Generator Room
Laundry (with bloody cages)
Security Room
Room with a Women corpse
2 Floor
Rooms 101,102,103 and 104
Storage
3 Floor
Two destroyed rooms
Studio room
4 Floor
Weapons and Items
Edit
Environmental Executions
Edit
In the beta, the brothel was called The Honey Pot.
There are Titty Citty posters in the reception room and main hall.
There are paintings with a stripteaser from Grand Theft Auto: San Andreas in the main hall and several rooms.
There's a Honey Pot billboard in the level Assassination.